The Copernican revolution revealed the ways cultural norms influenced study of the cosmos. Einstein's theories necessitate an observer to provide a reference point from which information can flow. The double slit experiment shows the influential nature of observation in particle physics. If there is a single line running through these moments in the history of physics, it is that the perspective of the observer plays an important role in knowledge production. How then can the information in land acknowledgments assist physicists of the 21st century in their work, theorization, and lives?
In this interactive workshop, Dr. Deb McGregor and Emma Nelson will discuss perspectives on the history and meaning behind land acknowledgments. Hailing from Ontario and Nova Scotia respectively, the presenters will encourage a deeply reflective approach to land acknowledgments and will engage the audience in meaningful practices for internalizing the message of "traditional territories." Concepts like decolonization, "Land Back," and treaties will be discussed. Both presenters view land acknowledgments as statements of action and practice. This workshop will explore ways that land acknowledgments can become pathways into understanding Canada's history and ongoing presence as a colonial state.
Learning Outcome: Participants will be gain deep insights into integrating personal experience with deeper knowledge of Canadian history.
Join our workshop hosts, Dr. Deborah McGregor and Emma Nelson, in their interactive session on the importance of land acknowledgements in relation to us as physicists on Thursday, November 4th from 12:15 – 1:00 pm!
---
Meet the Hosts!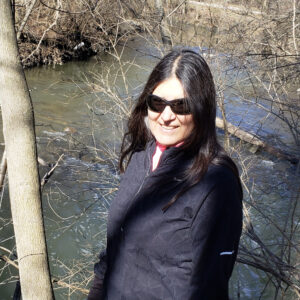 Dr. Deborah McGregor (she/her)
Associate Professor and Canadian Research Chair in Indigenous Environmental Justice, York University
Professor Deborah McGregor joined York University's Osgoode Hall law faculty in 2015 as a cross-appointee with the Faculty of Environmental Studies.  Her research has focused on Indigenous knowledge systems and their various applications in diverse contexts including water and environmental governance, environmental justice, health and climate justice.
My research, broadly speaking, is in the area of Indigenous environmental governance and Indigenous Knowledge Systems (IKS). The approach I take is interdisciplinary, and includes such topics as: environmental justice, Indigenous law and governance, water quality, environmental assessment, sustainability, sustainable forest management, environmental planning, and Indigenous intellectualtraditions. My research focus has for the last few years centred on four areas: Indigenous knowledge and environmental justice; Indigenous perspectives on water quality/quantity with a focus on gender; Indigenous climate justice and Indigenous research approaches.  A core aspect of my work involves combining research and teaching in areas such as Indigenous governance and environmental justice, Indigenous knowledge systems, Indigenous pedagogies and research approaches
You can learn more about Dr. McGregor at this website, or click here to learn more about the Indigenous Environmental Justice Project.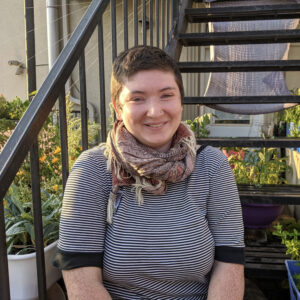 Emma Nelson (they/them)
Master of Environmental Studies, York University
Emma Nelson (they/them) graduated from York University in 2020 with a Master's of Environmental Studies and diplomas in Community Planning and Environmental Education. Their final research project took the form of a podcast ("Planning Through Land Acknowledgments") which included interviews, historical research and analysis, land acknowledgment development, planning policy analysis, and reflective discussion. They are a member of the Movement Defence Committee, an organization of activists and lawyers who provide free legal support to progressive activists. In early September, they moved to Nova Scotia to work on the sequel to their first independently published book, "Container Gardening: A How-to." In their spare time, Emma tends to their garden, practices as a birthworker/doula, stares lovingly at their cat (named Haircut), and organizes for brighter futures without capitalism.
Emma Nelson is interested primarily in how decolonization is possible through a variety of fields including environmental studies/planning, GIS, education, medicine, and governmental policy. They are looking forward to completing the Midwifery Education program (BHSc) at X University so as to be able to make a tangible difference in the way we care for and support one another.
Learn more about Emma Nelson's Container Gardening here.