This session will provide attendees (physicists, scientists, and future scientists across Canada) with an understanding of different ways they can leverage SciComm as part of their professional development. They will get tools to develop knowledge translation and mobilization strategies and connect them to their career trajectories. 
Additionally, attendees will gain in-depth training and skills needed to embed accessible and inclusive practices when creating and sharing scientific content.
Join our workshop host, Ana Sofia Barrows, in her interactive session on the importance of effective scientific communication and EDI in the field of physics on Friday, November 5th from 11:00 am – 12:00 pm!
---
Meet the Host!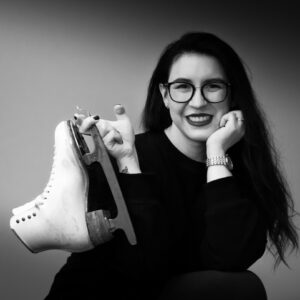 Ana Sofía Barrows (she/her)
Diversity, Equity and Inclusion Specialist, Professional Engineers Ontario
Ana Sofía Barrows is the Diversity, Equity and Inclusion Specialist at Professional Engineers Ontario. She holds a Canadian Certified Inclusion Professional (CCIP) designation and has a multidisciplinary educational background in Medical Physics, Leadership and Inclusion. She has coordinated multiple initiatives focused on advancing Equity, Diversity and Inclusion, and has spoken about the lack of diversity in STEM and academia, privilege, and allyship in multiple channels such as CBC's On the Money, CBC radio, and multiple conferences and panels.
Ana Sofia is the author of the article,  "So, you want to host an inclusive and accessible conference?", published in FACETS Journal,  and she has written for publications such as the Canadian Science Policy Centre, and Latinos Magazine.
Ana Sofia's Scientific interests include: Physics (Radiation therapy/proton therapy/ dosimetry). Equity, Diversity and Inclusion in STEM (Understanding the role of privilege in STEM education, decolonization in STEM, actionable strategies to implement inclusion in academia). Science Communication (Making science communication more accessible, inclusive and promote diverse representation).
You can learn more about Ana Sofia at this website.