May 15th, 2023
Hello Physicists! Welcome to the Announcements page of the CUPC 2023 website. Here, we will share important information regarding the 59th annual Canadian Undergraduate Physics Conference. You can also sign up here for our newsletter, which will be sent through email to make sure you don't miss any important information.
Now it's time to mark some important dates in your calendar! 
CUPC 2023 will be held October 26th-29th, 2023. An official itinerary will be released in the coming months jam-packed with interesting events. 
Are you hoping to give an oral or poster presentation about your undergraduate work/research? Abstract submissions will open on Tuesday, May 23rd and close on Friday, July 14th, 2023. We'd like to give you as much time as possible to submit your abstracts. Even if you have a research/work position over the summer, there's still plenty of time to submit your abstract to present in late October. See the Attendee Information page for more information. 
On July 28th 2023, we will announce the names of the students selected for oral and poster presentations. Finally, Registration will open on August 1 and close on October 15th, 2023. This will be done through Eventbrite, and a link will be published on the website at the appropriate time. The fee is consistent no matter when you register, but the first 50 delegates to sign up will receive an extra surprise in their swag bag.
Those are all the important dates for now! Stay tuned for more announcements coming shortly, and don't forget to sign up for our email newsletter to make sure you don't miss anything. We're so excited to see you at CUPC 2023!
---

The CUPC 2023 Committee at the University of Waterloo is proud to announce our status of hosting this year's CUPC. We are currently working on the website, so please stand by while we upload all the information needed for a successful conference. If you have an urgent concern, please email cupc2023@uwaterloo.ca and one of our student executives will reply as soon as we can.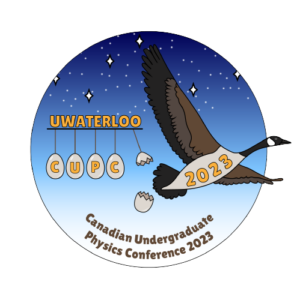 ---