Please email cupc2022@uoguelph.ca for more information on our current announcements!
---
Student Presentation Awards
With 70 oral presentations and 35 poster presentations, CUPC 2022 delegates enjoyed hearing about a broad cross-section of Canadian undergraduate physics research.  The judges had a very difficult job differentiating between the best presentations, and many were ranked very closely to one another!
Oral Presentations
Oral presentations were divided up into 4 broad categories, with a winner selected from each category.  The winners were:
Victoria Arbour (Trent University) – Astrophysics and Astronomy, and General Physics
Taren Ginter (McMaster University) – Biological/Medical Physics, Nanoscience, and Materials Science
Liam Morrison (Dalhousie University) – Solid State Physics, Mathematical Physics, Optics and Quantum Computing
Dhruval Shah (University of Regina) – Nuclear/Particle Physics and Dark Matter
Oral presentation winners were congratulated on-stage by the CUPC 2022 executive team at the Closing Banquet.  From left to right in the photo below:  Wesley Schlenker, Grant Doherty, Jennika McIntosh, Dhruval Shah, Taren Ginter, Victoria Arbour, Liam Morrison, Eddie MacKinnon, Ashley Geddes, and Gabriella Hohbaum.  Congratulations to all the winners!
Victoria Arbour's presentation was also selected as the Top Overall Oral Presenation at CUPC 2022.  Great job, Victoria!
Poster Presentations
Our judges were able to select three poster winners from the pool of 35 excellent presentations.  Like the oral presentations.  The winner of the poster competition was Noah Baker (University of Alberta), while Yeh-In Kang (University of Alberta) and Lana Bozanic (University of Toronto) tied for second place.  Great job!
Shown in the photo below are (L to R) Ricky Summerlin, Grant Doherty, Wesley Schlenker, Lana Bozanic, Noah Baker, Yeh-In Kang, Jennika McIntosh, Eddie MacKinnon, Ashley Geddes, and Gabriella Hohbaum.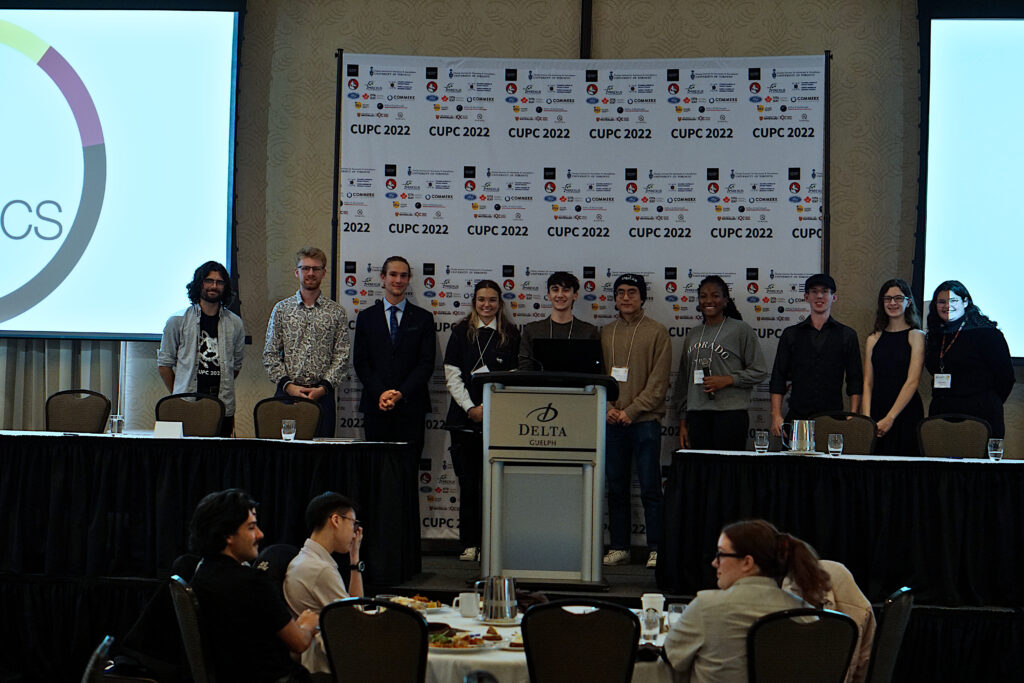 ---
Past Announcements
Panel Information
We're excited to present a number of talented and influential members of the physics community and beyond for this year's panelists! Check out the schedule on the CUPC Schedule Page to see when everything is happening, and take a look at the Panels and Workshops tab. You can find these links in the menu above, or by clicking here:
CINP Student Travel Award
The Canadian Institute of Nuclear Physics (CINP) has graciously offered to support four student travel awards to CUPC 2022!
Each award will grant up to $650.00 towards student travel expenses. Faculty or associate level CINP members who are supervising an undergraduate enrolled at a Canadian university on a nuclear physics research topic are asked to apply for the travel award on behalf of their student.
Working with your supervisor as necessary, the application package should consist of:
A copy of the student's submitted abstract to the CUPC.
A 2 page CV including the student's research experience, physics grades from the most recent 2 years of study, and career goals.
(Note: PDF format is preferred for the abstract and CV.)
The CINP support application deadline is Sunday, October 2nd, at 12:00 PM Mountain Time. Please make your students aware of this opportunity.
While the grant will be awarded before the conference to facilitate travel, the payment will be released only after the conference upon submission of the proper expense documentation.
For inquiries and completed application packages, please email Dr. Garth Huber with subject title "CINP Student Travel Award" to:
Garth Huber
CINP Executive Director
huberg@cinp.ca
Thank you again to the CINP for their support, and good luck to all prospective applicants!