Welcome, everyone! This fall, the University of Guelph will be hosting the Canadian Undergraduate Physics Conference (CUPC). Our skilled and dedicated team is excited to highlight what our city and cmapus while showcasing some of the exceptional research being done by the Canadian physics community. We hope to provide delegates with an enjoyable and memorable conference experience in the safest manner possible.

Below are profiles of the CUPC organizing team members – we can't wait to meet you in late October!
---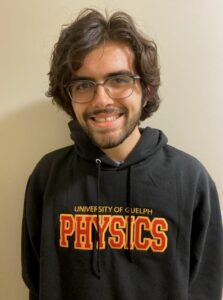 Ricky Summerlin (he/him) | CUPC 2022 Co-Chair
Honours Physics (B.Sc.), University of Guelph
Hello! My name is Ricky Summerlin, and I am a passionate third-year student at the University of Guelph. Though I love just about anything that relates to physics, I particularly enjoy applied physics. It is thrilling to probe anything from polymers to space dust under the framework of physics, and I look forward to helping give you the opportunity to share your results! I have the pleasure of playing an active role in planning this year's conference. I facilitate meetings and work hard to keep our team positive and on track. Outside of school, I am an avid bass player who loves dogs and going for power walks. I am looking forward to meeting all of you at our conference in the fall of 2022!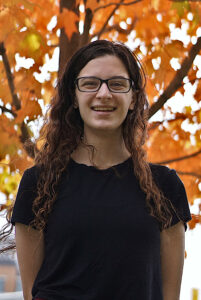 Ashley Geddes (she/her) | CUPC 2022 Co-Chair
Honours Physics Co-op (B.Sc.), University of Guelph
Hi everyone! My name is Ashley Geddes and I am a third-year student. I am still exploring everything this field has to offer and discovering where my passions lie, but I am excited and motivated by everything I learn! I love to challenge myself and discover new things, and I am excited to help host CUPC 2022 this fall!
On our team, I am in charge of organization. I keep track of ongoing tasks and responsibilities, help plan and run team meetings, and manage files and information flow. In my free time, I like to read novels and play soccer, and can often be found driving my Vespa around the countryside on nice afternoons.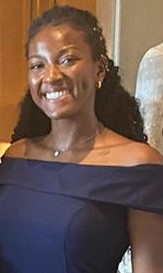 Jennika McIntosh (she/her) | CUPC 2022 Communications & Social Media Coordinator
Theoretical Physics (B.Sc.), University of Guelph
Hello, my name is Jennika and I'm entering my third year. I am particularly intrigued by the exciting research on neutrinos that is being explored by The Deep Underground Neutrino Experiment (DUNE), an international cooperation to unravel the mysteries of our universe. I've always been curious of the world around me and laboured to find answers to questions I'd been prompted with. Now I have the privilege to develop my own. On this year's team, I've been working on graphic development as well as supporting communications and social media management. I've been able to apply my love for physics as well as my passion for art. In my free time, I seek interdisciplinary activities that allow me to combine my hobbies such as singing, painting, rock-climbing, hiking and more. I love to try new things. Above all, I enjoy spending my time in service and supporting sustainable development in local communities.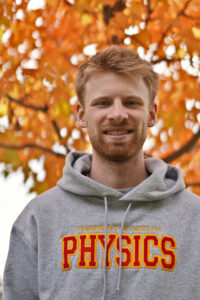 Grant Doherty (he/him) | CUPC 2022 VP-Logistics
Honours Physics Co-op (B.Sc.), University of Guelph
Hello! My name is Grant Doherty, and I am a third-year student. I have found particular interest in nuclear and high energy physics, and the innovation/ discovery within this field. I am passionate about a sustainable future, and novel energy production methods.
For this year's Canadian Undergraduate Physics Conference, I have taken on event communications. I am committed and excited to provide event outreach and information support for everyone taking part in this event! In my spare time, you can catch me at the park throwing a ball with friends, working out, or watching sports!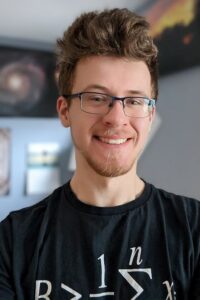 Callum Stonehouse (he/him) | CUPC 2022 Webmaster
Honours Physics (B.Sc.), University of Guelph
Hey there! My name is Callum, and I'm currently completing the fourth year of my undergraduate degree, including a minor in Creative Writing… which is a pretty unique combination of studies if I do say so myself! Although I find physics incredibly interesting, the fields of science communication and physics education are what I truly love – so I'm incredibly excited to bring my skills to the CUPC 2022 team! In terms of my role on this year's conference executives, I fill out the role of webmaster. I've had a hand in editing and improving almost every part of the website you're currently on – and I've been greatly enjoying the learning process so far! When I'm not studying or fixing up the CUPC 2022 site, I can often be found out in my garage, working on a woodburning or whittling project – and if I'm not there, then I'm almost certainly playing either video games or the trading card game, Magic the Gathering!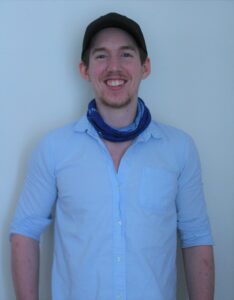 Eddie Mackinnon (he/him) | CUPC 2022 VP-Events
Honours Theoretical Physics (B.Sc), University of Guelph
Hi everyone, my name is Eddie Mackinnon and currently I'm a third-year student at the University of Guelph. From the first time I picked up a book on the history of mathematics, I have loved the subject! When I attended my first high-school physics course, I decided that a discipline in theoretical physics was what I wanted to do for the rest of my life.
In this year's CUPC planning committee, I have the greatest pleasure of heading the events planning: this means that I ensure that events are coordinated and run smoothly, that volunteers are found to run and assist in events, and guarantee that events that we create as a team are successfully accomplished. I love WW2 history, and I'm currently writing my very own alternate history novel on WW2. Additionally, I enjoy working out and eating healthy which includes my enjoyment in cooking my own meals.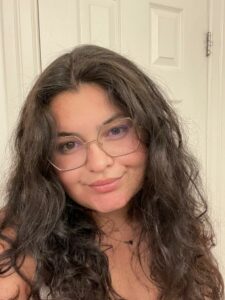 Gabriella Hohbaum (she/her) | CUPC 2022 VP-Volunteer Coordination
Honours Chemical Physics (B.Sc.), University of Guelph
Hey friends, I'm Gabby and I'm in my fifth year here at Guelph. I've always had a drive to do something impactful, so ultimately I was led to a combined degree of my two favourite sciences. My goal is to move forward into the clean energy field, in order to make our world a happier and healthier place!
My role as Volunteer Coordinator allows me to work closely with our executive team and the wonderful undergrad students to put on a conference that will run smoothly. My main job is scheduling volunteers and ensuring that everyone gets the most out of their CUPC experience! If you catch me at the conference, don't hesitate to stop and say "Hi". I will enjoy hearing about your love for physics (or The Office). Either way,  I can't wait to meet all of you!