We are excited to introduce the line-up of keynote speakers presenting at CUPC 2022!
Dr. Raymond Laflamme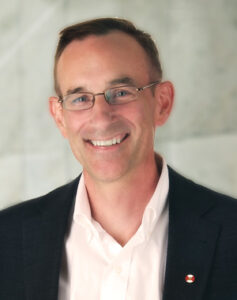 Dr. Raymond Laflamme is one of the world's leading experts in quantum information science and technology. Laflamme's Ph.D. research was in the fields of quantum gravity and cosmology, where he and colleague Don Page convinced his supervisor Stephen Hawking that time does not reverse in a contracting universe. Laflamme then worked as a research scientist at Los Alamos National Laboratory, where he shifted his focus to quantum computing and quantum information. In 2001, Laflamme joined the Department of Physics and Astronomy at the University of Waterloo, and he has been the Canada Research Chair in Quantum Information since 2002.  He is a Research Associate Faculty at the Perimeter Institute for Theoretical Physics. He was the founding director of the Institute for Quantum Computing from 2003-2016 and has been a Fellow of the Canadian Institute for Advanced Research Quantum Information Program since 2001, for which he has also served as the Program's Director and is currently the Chair of the Scientific Advisory Committee.
See more on Dr. Laflamme at the links below.
Dr. Katie Mack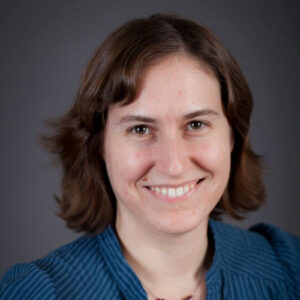 The inaugural Hawking Chair of Cosmology and Science Communication at the Perimeter Institute, Dr. Katie Mack is a theoretical cosmologist with a passion for conveying science to the general public! Mack earned her PhD in astrophysics at Princeton University while studying how observational studies could be used as tests for early universe theories and models. After post-doctoral work in England and Australia, Dr. Mack became an Assistant Professor in the Department of Physics at North Carolina State University in 2017 before joining the Perimeter Institute in 2022. Dr. Mark's research interests include dark matter, the early universe, galaxy formation, black holes, cosmic strings, and the fate of the cosmos. In addition to conducting her research, Mack is also an active science communicator and has written articles that have appeared in several popular science magazines.  Mack's first book, The End of Everything (Astrophysically Speaking), was released to critical acclaim in 2020.
See more on Dr. Mack here!
Dr. John Dutcher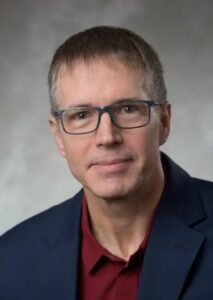 Dr. John Dutcher's academic career has brought him coast-to-coast, completing his undergraduate studies in Halifax and his graduate studies in Vancouver.  Since joining the Department of Physics at the University of Guelph in 1990, Dutcher's research group has studied the physics of polymers, biopolymers, and bacterial cells at surfaces and interfaces.  Dutcher co-founded the company Mirexus Biotechnologies, which commercializes a technology based on phytoglycogen nanoparticles derived from sweet corn discovered in his laboratory. Using an extensive suite of experimental techniques Dutcher continues to study the properties of phytoglycogen nanoparticles, as well as studying the effect of aging on the performance and reliability of crosslinked polyethylene pipes and characterizing the collective twitching motion of bacteria on surfaces.  Dutcher is currently the CEPS Research Chair in Novel Sustainable Biomaterials, and held a Canada Research Chair in Soft Matter & Biological Physics from 2006-2020.
See more on Dr. Dutcher here!
Dr. Grace Parraga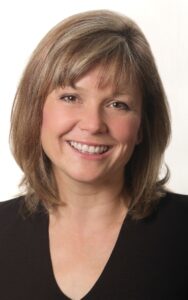 Dr. Grace Parraga is a Canada Research Chair in Lung Imaging to Transform Outcomes at Western University.  In 1991, she earned her PhD at the University of Washington for her spectroscopic studies of the zinc finger protein structural motif.  After her post-doctoral work in Switzerland, Parraga worked in pharmaceutical research and development at Roche.  Dr. Parraga returned to academia in 2004 when she joined the Robarts Research Institute at Western University, where she has employed medical imaging techniques to study carotid plaques and chronic lung disease. More recently, Parraga has collaborated on a study during the COVD-19 pandemic to evaluate the long-term impacts of the virus. In 2020, she was elected a Fellow of the Canadian Academy of Health Sciences for her "pioneering research in advanced patient-based pulmonary imaging."  She serves on the Scientific Advisory Committee for the Canadian Lung Association.
See more on Dr. Parraga here!
Dr. Deborah Harris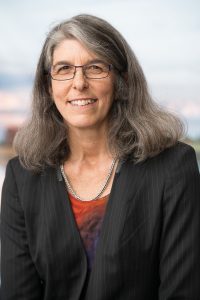 Dr. Deborah Harris first encountered the field of high-energy physics as an undergraduate student helping build detectors as a summer job. This experience was the foundation for a long career in high-energy physics.  Following her Ph.D. work at the University of Chicago studying neutral kaons, Harris's post-doctoral work at the University of Rochester introduced her to neutrino research. Since 1999, Dr. Harris has been a staff scientist at Fermi National Accelerator Laboratory (Fermilab), where she worked on the MINOS (Main injector neutrino oscillation search) and MINERvA (Main Injector Experiment for v-A) neutrino oscillation experiments at Fermilab. In addition to serving as the co-spokesperson for MINERvA project since 2010, Harris was appointed as a Professor in the Department of Physics at York University to lead Canada's contribution to the international DUNE (Deep Underground Neutrino Experiment) led by Fermilab. The MINERvA experiment is working on studying the ways that neutrinos interact with detectors to help understand what to expect when DUNE begins operation. Harris enjoys speaking to the public about such topics, and "[ends] up talking to folks about neutrinos in the strangest places."
See more on Dr. Harris here!
Dr. Fiona McNeill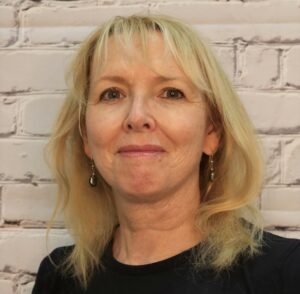 Dr. Fiona McNeill is a radiation physicist, focused on the development of biomedical devices to make in vivo measurements of trace toxic elements. These techniques provide low dose and non-invasive measurements of elements such as arsenic, gadolinium, and fluoride. She is the director of the Interdisciplinary Graduate Programs in Radiation Sciences at McMaster University. Dr. McNeill's research has spanned many applications, including using x-ray techniques to examine materials in historical and cultural artifacts as well as the effects of lead-based make-up on human health. This research group has a strong online presence, showcasing great science communication through their TikToks and website toxicallure.com.
See more on Dr. McNeill here!