A MESSAGE FROM THE CUPC 2022 TEAM:
Welcome, everyone! This fall, the University of Guelph will be hosting the Canadian Undergraduate Physics Conference (CUPC). Our wonderful, skilled, and dedicated team is excited to present to the greater physics community what Guelph Physics has to offer, as well as to showcase some distinguished and prominent speakers from the community. We hope to provide delegates with an enjoyable and memorable conference experience in the safest manner possible – though we are very excited to have the opportunity to host the conference in person! Whether you tune in online or attend up in person, we can't wait to see you there!
But who is the team for CUPC 2022? Below, you can find the profiles of the team members, as well as a face to put to each name!
---
The Team: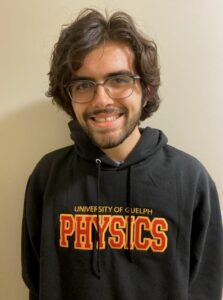 Ricky Summerlin (he/him) | CUPC 2022 Co-Chair
Honours Physics (B.Sc.), University of Guelph
Hello! My name is Ricky Summerlin, and I am a passionate third-year Physics student at the University of Guelph. Though I love just about anything that relates to physics, I particularly enjoy applied Physics. It is thrilling to probe anything from polymers to space dust under the framework of Physics, and I look forward to helping give you the opportunity to share your results!
I have the pleasure of playing an active role in planning this year's conference. I facilitate meetings and work hard to keep our team positive and on track. Outside of school, I am an avid bass player who loves dogs and going for power walks. I am looking forward to meeting all of you at our conference in the fall of 2022!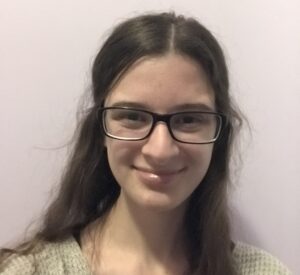 Ashley Geddes (she/her) | CUPC 2022 Co-Chair
Honours Physics Co-op (B.Sc.), University of Guelph
Hi everyone! My name is Ashley Geddes and I am a third-year Physics student at the University of Guelph. I am still exploring everything this field has to offer and discovering where my passions lie, but I am excited and motivated by everything I learn! I love to challenge myself and discover new things, and I am excited to help host CUPC 2022 this fall!
On our team, I am in charge of organization. I keep track of ongoing tasks and responsibilities, help plan and run team meetings, and manage files and information flow. In my free time, I like to read novels and play soccer, and can often be found driving my Vespa around the countryside on nice afternoons.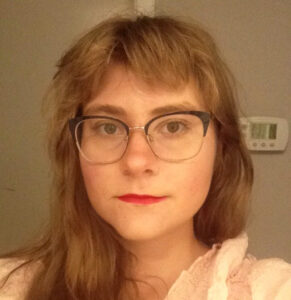 Victoria Leaker (she/they) | CUPC 2022 VP. Communications
Theoretical Physics (B.Sc), University of Guelph
Hi! My name is Victoria and I'm currently a fifth-year theoretical physics student at the University of Guelph and am most interested in the field of astrophysics and gravitation. My interest in physics stems from its versatility in terms of modeling complex phenomena using simple concepts.
On this year's team, I've been helping with the communications aspect, managing the social media accounts and developing graphics specifically. After a long bout of isolation due to the pandemic, I'm excited for everyone to have the chance to interact in person and enjoy all that Guelph has to offer! Some fun facts about me: I love to cosplay and do art. I love horror movies and can usually be found spending my free time painting scenes and characters from my favourite films!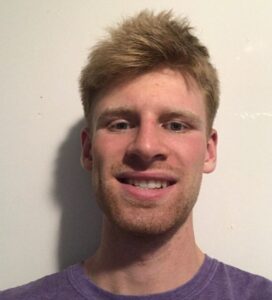 Grant Doherty (he/him) | CUPC 2022 VP. Logistics
Honours Physics Co-op (B.Sc.), University of Guelph
Hello! My name is Grant Doherty, and I am a third-year Physics student at the University of Guelph. I have found particular interest in nuclear and high energy physics, and the innovation/ discovery within this field. I am passionate about a sustainable future, and novel energy production methods.
For this year's Canadian Undergraduate Physics Conference, I have taken on event communications. I am committed and excited to provide event outreach and information support for everyone taking part in this event! In my spare time, you can catch me at the park throwing a ball with friends, working out, or watching sports!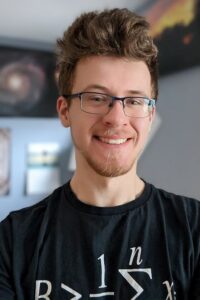 Callum Stonehouse (he/him) | CUPC 2022 Webmaster
Honours Physics (B.Sc.), Creative Writing Minor, University of Guelph
Hey there! My name is Callum, and I'm currently completing the fourth year of my undergraduate Physics degree, as well as a minor in Creative Writing… which is a pretty unique combination of studies if I do say so myself! Although I find physics incredibly interesting, the fields of science communication and physics education are what I truly love – so I'm incredibly excited to bring my skills to the CUPC 2022 team!
In terms of my role on this year's conference executives, I fill out the role of webmaster. I've had a hand in editing and improving almost every part of the website you're currently on – and I've been greatly enjoying the learning process so far! When I'm not studying or fixing up the CUPC 2022 site, I can often be found out in my garage, working on a woodburning or whittling project – and if I'm not there, then I'm almost certainly playing either video games or the trading card game, Magic the Gathering!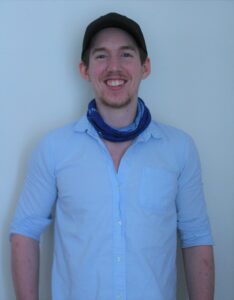 Eddie Mackinnon (he/him) | CUPC 2022 VP. Events
Honours Theoretical Physics (B.Sc), University of Guelph
Hi everyone, my name is Eddie Mackinnon and currently I'm a 3rd year theoretical physics major at the University of Guelph. From the first time I picked up a book on the history of mathematics, I have loved the subject! When I attended my first high-school physics course, I decided that a discipline in theoretical physics was what I wanted to do for the rest of my life.
In this year's CUPC planning committee, I have the greatest pleasure of heading the events planning: this means that I ensure that events are coordinated and run smoothly, that volunteers are found to run and assist in events, and guarantee that events that we create as a team are successfully accomplished. I love WW2 history, and I'm currently writing my very own alternate history novel on WW2. Additionally, I enjoy working out and eating healthy which includes my enjoyment in cooking my own meals.